How to make the most of TimeBucks?
TimeBucks is a well-known GPT that we don't need to present anymore. Very serious site, which has been paying for years: come and earn an income supplement every month!
How to make the most of TimeBucks?
TimeBucks Overview
TimeBucks is a GPT * (get paid to). It makes money by performing different tasks, which I will develop later. The site is owned by Australian Clearing Pty Ltd, based in Sydney, Australia. It totals more than 200,000 members worldwide, and offers more than 150 new offers per day.
* A GPT, is a site that pays its members, who perform them, different tasks more or less fast.
How to make money and maximize your earnings?
On TimeBucks, you can perform different tasks to earn money. I will start by quoting them all, and in a second paragraph, I will give you some techniques to optimize your earnings.
The different ways to make money on TimeBucks


On this incredible GPT, you can earn money in different ways:
Respond to surveys ranging from $ 0.20 up to $ 4.
Click on links (PTC).
Watch videos.
Sponsor, we'll come back later.
Make money by registering on sites, contests .. Thanks to the 12 offerwalls present on the site.
Filling different tasks.
"Do social actions", subscribe to a YouTube channel, an Instagram account.
By buying on the internet, cashback.
By completing 10 tasks a day, you can make money without doing anything, between $ 0.002 and $ 100.
By creating a video on TimeBucks, if you have more than 1000 subscribers, you will earn $ 3.
Earn a maximum per day, to get the first place in the daily contest to win $ 20.

Optimize your gains on TimeBucks
On TimeBucks some offers, or some ways to make money, are more or less profitable than others, I will try to help you maximize your earnings.
The cheapest offers in my opinion, that I advise you:
- The PTC, which pays only tenths of a cent.
- Watch videos.
- The "social" tasks.
The most profitable offers in my opinion, to optimize your earnings and your time:
- Polls, choose your polls well, there are hundreds, and
some are more or less profitable, try to earn a maximum in a short time.
- To sponsor a maximum of person, I will give you some tips just after.
- Fulfill tasks like sites, can sometimes be very profitable compared at times / earnings.
- Cashback is a way to make money by buying on the internet, we can win big on some offers.
I advise you especially paid surveys that are the best ways to win in my opinion. Do not forget to go check the offers of cashbacks on the site before buying on the internet, it can always bring a few euros more!
Why not try every month to win once in the daily contest, "ladder", to win $ 20!
The sponsorship on TimeBucks
TimeBucks offers a super advantageous sponsorship system. Indeed this one is based on 5 levels. That is to say that you will receive a certain percentage of the earnings of your direct referrals, then a part of the godchildren of your referrals etc. On 5 levels.
Remuneration of sponsorship:
1st level: 15%
2nd level: 2%
3rd level: 2%
4th level: 2%
5th level: 1%.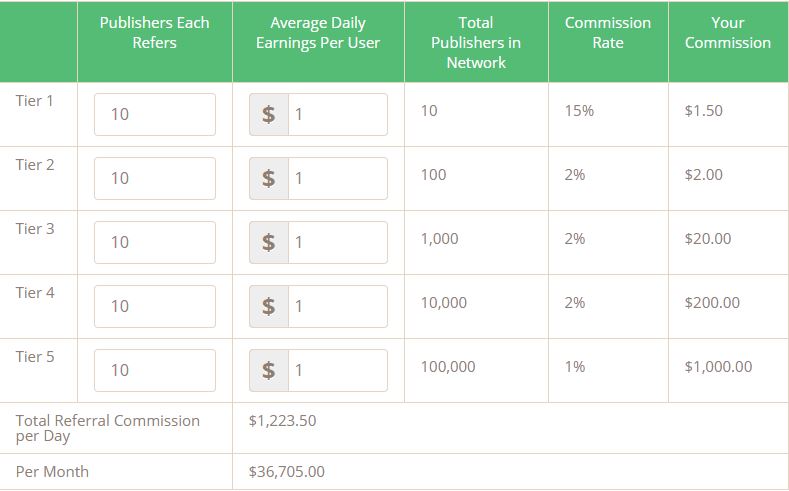 Calculations gains possible sponsorship
This chart shows the potential of the TimeBucks sponsorship system. If you are sponsoring 10 people and each of these people are sponsoring 10 people on their 5-level towers and everyone is making $ 1 a day, the potential winnings per month will be $ 36,000 a month, with 100,000 referrals on the 5 levels.
Indeed, this is more complicated than that because each of your referrals will surely sponsor 10 referrals, and each referral will not earn $ 1 per day. But imagine still sponsor 1000 people, we can create a rather substantial passive income.
To sponsor I strongly advise you to create a YouTube video the number of referrals increases very quickly, or even to write a guest article on a blog. You can even try to sponsor a "known" person who could promote the site, you will receive 2% of the earnings of his godchildren.
Conclusion on TimeBucks
Inscription with my referral link : https://timebucks.com/?refID=215682254

To sum up, TimeBucks is a GPT with an incredible diversity of offers, if you want to earn some money rather quickly I think it's a good option. Likewise, if you do not want to try to get passive income from sponsorship, I think TimeBucks is a good option!
Here we come at the end of the "article", I hope you enjoy it, if you have questions, or there are points to improve do not hesitate to contact me, thank you to you !